Choice Automation and Custom Machinery


Stackers and Handlers
We designed and build stackers that handle wood products of almost every size and shape in order to simplify the material handling process and decrease manual labor costs.


Automated Assembly
Our expertise in nail and staple gun fixturing and processes allows us to serve customers looking to add various levels of automation in their assembly process.


Gluing Operations
Our years of feeding and stacking provide us a detailed understanding of best practices when it comes to integrating automation into various gluing / hot melt operations.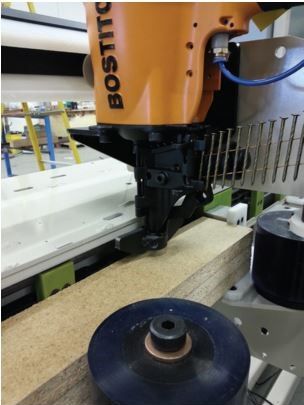 Automated and Custom Machinery Solutions
Before we began manufacturing the Evans line of machinery in 2014, we had over 30 years of experience building custom machinery at Barnett Manufacturing in Holland, Michigan. Our experienced engineers have designed and built machinery to automate processes like nailing, stapling, cutting, feeding, stacking, and more. Each of these machines was built to meet the exact needs of our customers and our robust design methods ensure that our machines will run for years.
We pride ourselves in finding affordable solutions that can produce an ROI under one year while creating a safe and reliable solution for our customers.
Examples of Custom Machinery Solutions…
Nailing Assembly Equipment
Assembly Line for Grooved Runners & Dunnage

Privacy Fence Panel Machines
Stapling Assembly Equipment
Lattice Assembly Machines

Adjustable Stapling Machines for Furniture Subcomponents
Job Specific Cutting/Sawing Equipment
Multi-Head Throughfeed Routers

Dedicated Angle Drop Saws
Material Handling Equipment
Automated Saw Feeders

Heavy Duty Stackers
Grooved Dunnage Machine
Aligns parts of multiple depths

Inserts up to 3 nails per into opposite sides of the runner

Grooves the product in line

Kicks the finished product out for inspection and stacking